I apologize for missing 3 weeks of our study.   Today I'm going to post them together.   There is MUCH wisdom below from Ann's devotional.   My thoughts are at the end.   We are at week 21 with only 5 more to go and the last ones are beautiful!  I look forward to each one!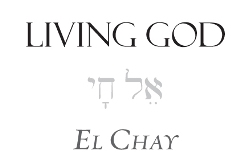 This title sets Israel's God apart from the false gods of the surrounding nations. Unlike idols of wood and stone, made by human hands, the Living God is himself Maker of heaven and earth. He alone is the source of our life. We live because he lives. The prophet Jeremiah reminded God's people that "every goldsmith is shamed by his idols. His images are a fraud; they have no breath in them" (Jeremiah 10:14).

Scripture constantly warns against the worship of false gods. The first of the Ten Commandments is itself a proscription against idol worship. The title El Chay (EL CHAY), the Living God, emphasizes God's role as Creator of all that is, in contrast with idols made of metal, wood, or stone, which are merely the creations of human hands. Jeremiah paints a vivid picture, saying, "The customs of the peoples are worthless; they cut a tree out of the forest, and a craftsman shapes it with his chisel. They adorn it with silver and gold; they fasten it with hammer and nails so it will not totter. Like a scarecrow in a melon patch, their idols cannot speak; they must be carried because they cannot walk. Do not fear them; they can do no harm nor can they do any good" (Jeremiah 10:3-5). Imagine praying to a deaf and dumb god! That's exactly the case when someone worships any other God than El Chay!

Reflect On:         Romans 8:9-11; 2 Corinthians 3:2-3

Praise God:       For his Word, which is living and active, sharper than a two-edged sword.

Offer Thanks:     That the same Spirit who raised Jesus from the dead lives in  you.

Confess:             Any ambivalence you have toward yielding to God's Spirit.

Ask God:           To help you taste the joys of the Spirit-controlled life.
Important as laws are, we know that the vitality of our faith cannot be measured solely in terms of life's "Thou Shalt Nots." To focus merely on outward conformity to a set of rules is to miss the point of the gospel: that God became human to share his essential life with us—to make us not just his servants but his dwelling place.

Incredibly, Scripture assures us that the Spirit of the Living God indwells all those who believe in his Son, Jesus.

Today, if you find that you suffer from even the slightest bit of spiritual ambivalence, join me in forsaking it. Face yourself squarely and without excuses. Tell the Lord you can no longer live without his ongoing daily guidance. Assure him that you no longer want to control your life but that you want to be controlled by his living, powerful Holy Spirit. Then underline your prayer by giving up a meal or by fasting for twenty-four hours as a way of humbling yourself in the presence of the Living God.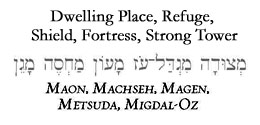 These descriptive names for God often appear in clusters in the psalms as well as in other portions of the Scripture. When you pray to God your Refuge, Shield, Fortress, Dwelling Place, and Strong Tower, you are invoking the God who has promised to watch over you and keep you safe.

He who dwells in the shelter of the Most High
will rest in the shadow of the Almighty.
I will say of the LORD, "He is my refuge and my fortress,
my God in whom I trust." (Psalm 91:1-2)
The Hebrew Scriptures reveal a God who dwells with his people—first in a tent in the wilderness and then in the Jerusalem temple. The New Testament takes this idea of God's dwelling place on earth a giant step further by revealing a God who wants to dwell not merely with his people but within his people. Occasionally, Scripture reverses this imagery in a wonderful way by picturing God himself as our Dwelling Place or Maon (ma-OHN).

Closely allied to this image of Dwelling Place is the idea of God as our Refuge or Machseh (mach-SEH). He is pictured as one to whom we can run for safety and security. The word "refuge" also appears in the Hebrew Scriptures in connection to Israel's "cities of refuge" (the Hebrew word in this instance is miqlat), where people could flee for safety if they had accidentally killed someone. These cities were strategically located so that anyone in Israel was within a day's journey of one.

A shield or Magen (ma-GAIN) is another image of God's protecting care. Ancient shields were often made of layered cowhide and were used in situations of close combat as well as to protect soldiers from rocks hurled from city walls.

In biblical times, some cities were enclosed by walls, 25 feet high and 15 to 25 feet thick. Farmers worked in the fields by day and then retreated within the city walls at night for protection. Large fortified cities also contained strongholds or strong towers that provided additional defense should the city's outer walls be breached. Like the other terms already mentioned, God is compared to a fortress or Metsuda (me-tsu-DAH) and to a strong tower or Migdal-Oz (mig-dal OHZ).

But I will sing of your strength,
in the morning I will sing of your love;
for you are my fortress,
my refuge in times of trouble.
O my Strength, I sing praise to you;
you, O God, are my fortress, my loving God.
(Psalm 59:16-17)

Hear my cry, O God;
listen to my prayer.
From the ends of the earth I call to you,
I call as my heart grows faint;
lead me to the rock that is higher than I.
For you have been my refuge,
a strong tower against the foe. (Psalm 61:1-3)

Reflect On:      Psalm 59:16-17 and Psalm 61:1-3

Praise God:     Because He is a strong tower against all foes.

Offer Thanks:   For His sustaining grace.

Confess:         Any tendency to make God your last instead of your first resort when trouble heads your way.

Ask God:      To open your eyes to His protective care, past and present.

Today, take some time to gather up your fears small and large, heaping them before the Lord in prayer. Here's a short list to get you started:

• failure
• rejection
• financial loss
• flying
• public speaking
• for your children
• for your marriage
• social fears
• illness
• accidents
• aging
• death

Whatever your list, ask God to deliver you from them. Make it your steady habit to run to him as your fortress. Do this by memorizing Scriptures about his power, love, and faithfulness. Thank him for his past protection. Call to mind his promises in the Bible. Make this verse, taken from the ancient Irish hymn "Be Thou My Vision," your regular prayer:

Be thou my breastplate, my sword for the fight,
Be thou my armor, and be thou my might,
Thou my soul's shelter, and thou my high tower,
Raise thou me heavenward, O Power of my power.

As you do these things, you will learn to rest in the powerful, encircling arms of the God who is far stronger than any method of self-defense you could ever devise.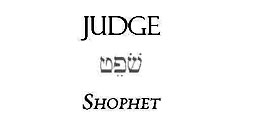 Justice is ultimately rooted not in a collection of laws or rules but in the very character and nature of God. As Judge of the whole earth, he is the only One competent to measure the motivations of our hearts. In the Hebrew Scriptures, the word "judge" is often parallel to the word "king." When we pray to God our Shophet (sho-PHAIT), we are praying to the One whose righteousness demands perfect justice but who has also provided a way for us to be acquitted of our guilt through the life, death, and resurrection of his Son.

Lord, you alone can judge the motivations of the heart. I pray that your justice will reign in my life and in all the nations of the earth. Bless those who long for justice. May they be satisfied.

Understanding the Name

The Hebrew verb shapat (sha-PHAT) can be translated in a variety of ways, including "judge," "govern," "vindicate," "decide," "defend," and "deliver." In the Hebrew Scriptures the word often combined the three primary functions of government—the executive, legislative, and judicial—that modern Western nations separate. That's why leaders like Gideon, Samson, and Deborah were called judges. When we read the word "judge" (shophet, sho-PHAIT) in the Hebrew Scriptures, we need to remember that it often connotes the broader meaning of "rule" or "ruler."

The prophets often chided Israel's rulers for failing to act justly, reserving their harshest words for those who ignored the rights of aliens, the poor, the fatherless, and the widow.

When the word "judge" is used in the New Testament, it tends to mirror the meaning of the word in Greek culture, emphasizing judicial functions rather than overall rule.  The New Testament depicts Jesus as Judge of both the living and the dead.
Judgment will again be founded on righteousness,
and all the upright in heart will follow it. (Psalm 94:15)
Do not judge, or you too will be judged. For in the same way you judge others, you will be judged, and with the measure you use, it will be measured to you. (Matthew 7:1)
You, therefore, have no excuse, you who pass judgment on someone else, for at whatever point you judge the other, you are condemning yourself, because you who pass judgment do the same things. Now we know that God's judgment against those who do such things is based on truth. So when you, a mere man, pass judgment on them and yet do the same things, do you think you will escape God's judgment? Or do you show contempt for the riches of his kindness, tolerance and patience, not realizing that God's kindness leads you toward repentance? (Romans 2:1-4)
Reflect On:     Matthew 7:1-5 and Romans 2:1-4
Praise God:    Because He is perfectly just.
Offer Thanks: For God's ability to read our hearts.
Confess:         Any tendency to judge the motivations of another's heart.
Ask God:        To keep you from becoming critical and judgmental of others.
This song goes along with all of the names I shared today:
My walk with God lately has taken me through a need for Him as the Living God – my Fortress, Strong Tower, Refuge, Shield and Judge.
God has been speaking to my heart to trust Him in the deepest places of my heart and fear nothing that is brought to light.   Even when those places are a bit scary for me to release He continues to show His faithfulness and LOVE!   Even when those places cause me to feel shame or hurt as I see them – He reminds me that I am NO longer judged – I am forgiven.   Even when those places cause me to feel a deep sense of conviction – I know that is a good thing because I'm seeing things through His heart and not mine.   God constantly reminds me to judge not and instead have compassion for others.  
I am thankful for His hand in my life and how He truly cares about the smallest of details!
As we finish this study I will begin to share my walk through Shame Lifter here.  I was so humbled and blessed to find out that Marilyn Hontz read a few of my posts and shared them with her daughter.   Thank You God for introducing me to her!  You can read her personal blog here.
May you each have a blessed day!  Tomorrow I will be out early – Lexi and Lilly both have oral surgery in the morning.  Will you cover them in prayer – for comfort, peace and healing?   Please pray Lilly does not let her fears take over her body and that she gets a good sleep tonight!   Thank you!
If you would like to read the posts throughout our study simply click here – or if you would like to join us and add a post that is on any of His names and our study – follow the same link!