"And Jesus kept increasing in wisdom and stature, and in favor with God and men." Luke 2:52
What an awesome picture of a life completely reliant on God, the Father.    And wonderful example of let the little children come!  
I love thinking about Jesus as a young boy and how He prayed, the things He did to help His parents and how He was mocked by many….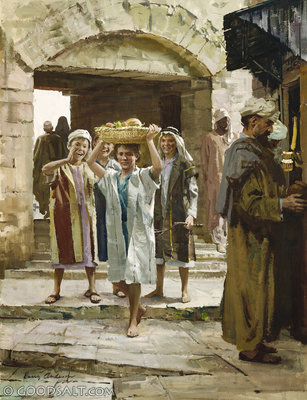 I can't even imagine living my entire life with the depth of rejection, misunderstanding and complete hatred He faced!
The older He got and the more He taught, the worse all of that became.
We can't even handle when one person doesn't like us.  But an entire nation.   The very nation you came to save??? 
We can't stand being given a dirty look, let alone having people mock you everywhere you go.
We can't stand having anyone call us names, let alone people saying your are a blasphemer.
We can't stand being ridiculed, let alone having the leaders of a nation doing it day after day after day.
Today, we are no better.  We shake our fists at Him.  We call Him a liar by our deeds and words.   We call Him a fake.  We say He is nothing more than a man and a carpenter.   We belittle Him in how we talk to those who do not believe and how we pretend to love others.    We make Him like us, instead of the immense majesty and power that is GOD!
I think about this quite often as I watch the world around me grow more like Sodom every year.  I think about this more as I watch the body of Christ judging each other and tearing each other down and finding ways to be OK with acting like the world, we are to be set apart from.
The one thing Jesus wants from us is to LOVE ONE ANOTHER SO THAT THE WORLD WILL KNOW WE ARE HIS!  We are to be set apart and HOLY!   We have to stop making up our own definition of holiness and what it means to be set apart – and start behaving like we are children of GOD!   It is time that we truly embrace the REASON for this season and live our lives radically because of all that Jesus did for us and still does!  
The young boy above grew in the grace and knowledge of His Father, our God.   God, our Father, asks us to do the same of His, Son….Jesus Christ our Lord and Savior. 
Make this month about drawing closer to God and getting to know THE TRUTH, THE WAY and THE LIFE!
Wishing you all a blessed evening!