I hope and pray you all had a very blessed Father's Day yesterday and soaked in His love for us. This week we are studying -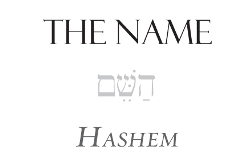 Shem is the Hebrew word for "name" (the "Ha" before it is the definite article). The Bible speaks of Solomon's temple in Jerusalem as the place where God's name would dwell—the place where his people could pray and be heard. Jesus himself prayed that the Father would glorify His name through Him. He also promised to do whatever we ask in His name (according to His will and for His glory). Philippians 2:9-10 affirms that God has exalted Jesus and given Him "the name that is above every name."
The name that would release us all from the bondage of sin and give us FREEDOM for eternity!
The name that still to this day can cause a line drawn in the sand of which side you stand on.
The name that still causes a guttural reaction in people (like me only 5 yrs ago).
The name that can bring you to your knees and cause you to cry out!
The name that releases so much power here on earth and in heaven!
The name that changed everything in a moment!
The name that means God among us!
When we pray to Hashem (ha-SHAME), we are praying to the holy God who dwells in our midst, hearing and answering our prayers.
I believe we could all use some time meditating up those words. We are praying to The HOLY GOD! Not a god. But THEE GOD!
The One who hears our cries.
The One who listens to our deepest heart cries for help.
The One who came to save us.
The One who today still saves us.
The One who created us – perfectly and wonderfully formed us in our mother's wombs.
The One who knows us all by name.
The One who knows the number of our days.
The One who will never leave us nor forsake us.
We are not praying to a little god, a wooden or metal statue. We are praying to the GOD of the universe. The One who created it all and knows every star by name!
Take Him out of whatever proverbial box you have Him in and release the power of His name in your life.
Stand back and watch what happens when you allow God's power to transform your life and home.
Be prepared for things to change. Be prepared to walk through deep valleys and the highest of mountains once you truly ask Him to rule and reign your life. Be prepared to see miracles happen right before your eyes. Be prepared to change from the inside out. Be prepared for the power of His name to great and wonderful things in your life!
Ann shared this:
Lord, teach me what it means to "hallow Your name," to glorify, exalt, declare, and praise Your holy name, to live in a way that honors your name so that others might find forgiveness, peace, and healing through the power of Your name. Amen.
Understanding the Name
God's name is associated with His glory, power, holiness, protection, trust, and love. To call on His name is to call on His presence. To act in His name is to act with His authority. To fight in His name is to fight with His power. To pray to His name is to pray to Him. In fact, the very first mention of prayer in the Bible appears in Genesis 4:26: "At that time people began to invoke the name of the LORD" (NRSV). Though we are to exalt God's name and proclaim it to the nations, it is also possible to dishonor it, which is the same as dishonoring Him. God's name is His reputation.
Though God's name is holy and powerful, it cannot be invoked as a magic formula. Rather, His name becomes powerful whenever it is uttered by men and women who are exercising their faith in God. Jesus taught His own disciples to pray by saying, "Our Father who art in heaven, hallowed be thy name..." In John's gospel, Jesus prays to His Father, saying, "I have manifested thy name to the men whom thou gavest me" and "I made known to them thy name, and I will make it known" (John 17:6, 26 KJV).
AND THIS SONG SAYS IT BEST – SING IT LOUD AND PRAISE HIM WITH ME! WE ARE ALL SINGING THIS WITH YOU OVER AND OVER AGAIN TODAY!!!!
If you would like to read all the Praying the Names of God posts –
click here
. If you would like to add your post on what you are learning through this study please add your link on that same post. Thank you!